Registration for ParaSurf™12 Free Academic Version

ParaSurf™12 is freely available for bona fide academic users.
To order a free academic version of ParSurf and/or Empire your have to register first:
Please download the registration form, fill in all information and send it to us via email.
We will contact you to give you all neccessary information for the download.
Please notice: An email address from a bona fide academic institution is required.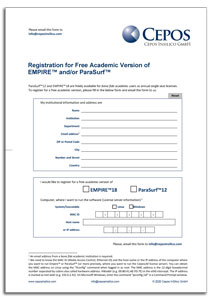 Download Form as PDF
You can fill in the form either using e.g. Adobe®Reader® or by hand.